There are artists that have already reached immortality. However, art is more than just ideas, expressions, and helping us deal with both of them. It is also about influencing society as a whole. Here are the 5 artists that were the most influential in 2020.
Banksy
If you went online, you've heard of Banksy. The London artist is famous for putting up controversial graffiti all over the walls of England. He is also famous for being a rebel and a strong believer that art should not be subject to copyright. 
Banksy has always been vocal, or rather graphic, about society's issues and what we should be paying attention to. After the first wave of COVID in the spring of 2020, he donated his work to a hospital. The idea was to sell the painting and to donate that money to the NHS. A hospital in Bethlehem also received a painting of his that was a commentary on the migrant crisis and raised $2.8 million. He also funded a refugee rescue ship. Here is an artist that puts his money where his mouth is.
Christine Sun Kim
Christine Sun Kim is focused on sound and how we perceive it. She is known for singing America the Beautiful in ASL at Super Bowl LIV and being the first artist with a sound installation at the Smithsonian's American Art Museum. You may have seen her work which utilizes the popular meme format and pie-charts to describe the discrimination towards deaf people.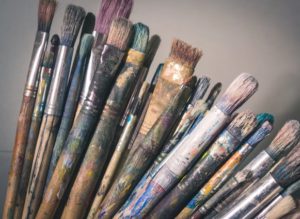 Frank Bowling
The 86-year-old artist is about to be knighted and sign on with Hauser & Wirth, a very prestigious mega-gallery. Bowling has done a lot for the world of abstract art and even more for abstract art in Britain. 
He is one of the very few black artists that has achieved so much and received recognition for it. For years, the painter has dealt with people connecting his art and his origins and attributing things that weren't there. However, he is now one of the champions of abstract art in Great Britain.
Titus Kaphar
Most of Kaphar's work focuses on how we choose to remember history. He usually does this by crumpling the canvas, tearing bits of it, or leaving large blank spaces. This last one is the method he used in New York in the fall of 2020. The blank spaces were silhouettes of toddlers and one of his works was featured on the cover of the Times, called Analogous Colors and featuring a mother holding a child. The work was displayed in the magazine in the wake of George Floyd's murder and speaking to the feeling of loss experienced by black mothers.